Rikers Bot
digital storytelling
Manan Ahmed
Adam Ares
Zeinab Aina
Thomas Brown III
Marjana Chowdhury
Andi Dixon
Alex Gil
Janine Ko
Katarzyna Kaczowka
Durba Mitra
Desmond Patton
Cameron Rasmussen
Christopher Riederer
Morgan Sparkman
Elijah Strauss
Dennis Yi Tenen
Young People at Rikers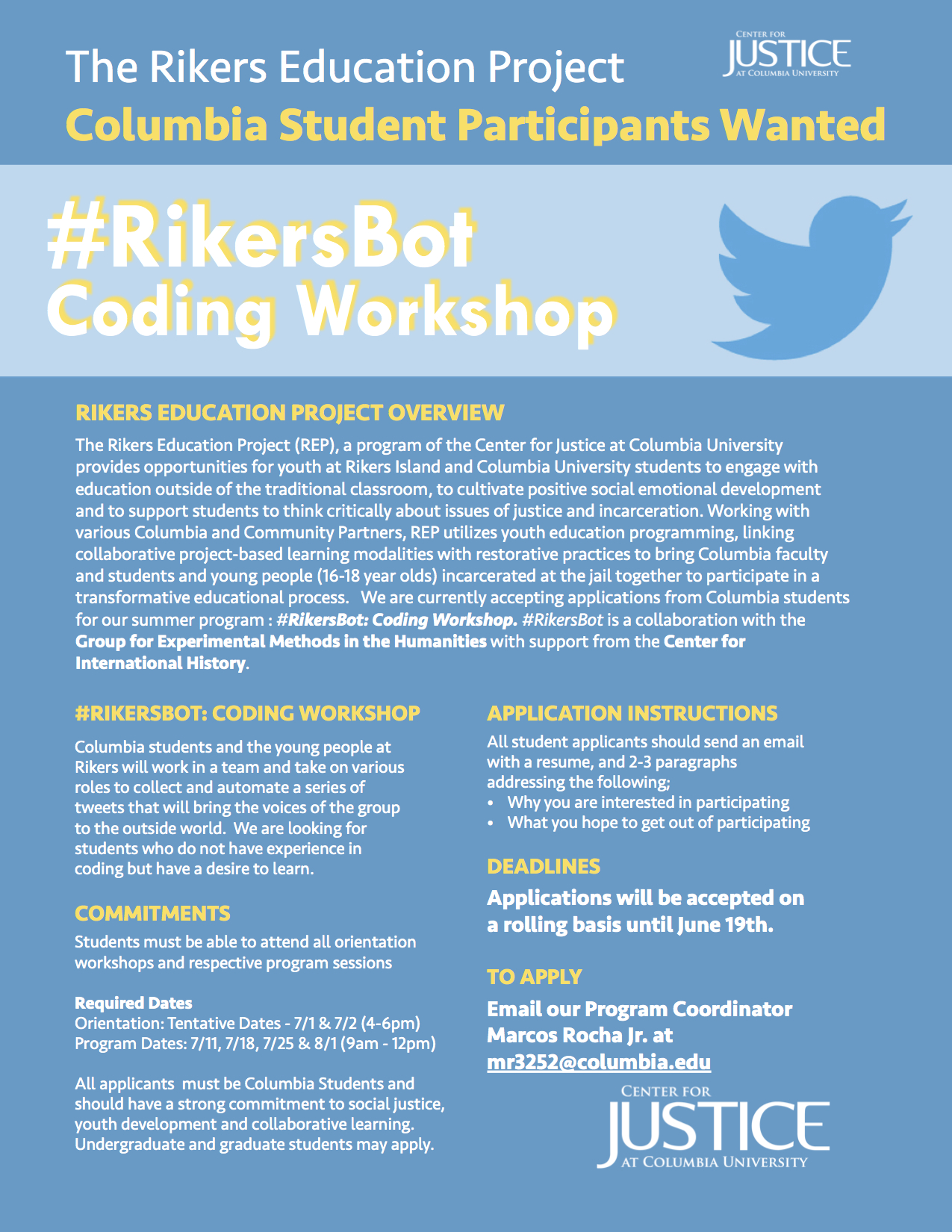 @rikersbot is a coding workshop and an algorithmic storytelling project set in and about Rikers Island correctional facility, New York City's main prison complex.
In the spring of 2015, the Center for Justice approached the Group for Experimental Methods with an idea of running an "Intro to Python" workshop for the young people incarcerated at Rikers and for Columbia University students interested in digital literacy. Our goal was to set up the encounter in a way that moved past one-way conversation and had effects that would persist beyond event itself.
In teaching programming through digital storytelling, we hoped to encourage a dialog between the youth at Rikers, Columbia faculty and students, and the larger community of the city.
The Rikers Bot project gives all participants a chance to have their voices heard, to learn to code, and to gain real-world experience in writing, editing, and producing a project. Together, we are building a Twitter bot that will tell our story.
Schedule
Twitter
What It Takes
†Links marked with a dagger are closed pending review.
NYC Resources for released detainees
Fortune Society Founded in 1967, The Fortune Society's vision is to foster a world where all who are incarcerated or formerly incarcerated will thrive as positive, contributing members of society. We do this through a holistic, one-stop model of service provision.
Exodus Transitional Community To provide supportive services to formerly incarcerated men and women in order to help them reintegrate into their communities, thereby achieving social and economic well-being and breaking the cycle of recidivism.
NYC Tech Talent Pipeline Free training for high tech jobs in NYC. No college degree necessary.
Young People of Rikers
Summer 2015
Ivan
Joshua
Lonzell
Malik
Michael
Myles
Rashad
Romeo
Ron
Sutki
Tyrieque
Fall 2015
Ahziem
Christian
Christopher
Trayvon
John
Jared
Outreach
CU Faculty Moderators
Instructor Fall 2016